Anna Gustafson, 23, is your VIP backstage pass to music festivals happening around the U.S. A Ypsilanti (MI) native, she graduated from Michigan State University in 2017 and began her Festival Insider page her last year of undergraduate studies.
---
Tell me a little bit about Festival Insider.
My small media outlet is called Festival Insider. My main focus at this point is providing a platform for female-identifying or non-binary photographers and creatives alike to share their work. Currently, I'm working on video coverage and artist interviews.
What do you do when you work at these music festivals?
Right now, I wear a lot of hats! I would say I freelance; sometimes I sell food or jewelry, or work with sustainability. I have also worked with artist hospitality, box office, decor, and media in the past. I also fill out press applications to get more young women to go to these festivals and pursue their dreams. Women systematically underestimate themselves, so I'd like to think I'm helping someone reach their full potential.
How did you get your start in working for festivals?
My first time working at a music festival was as a journalist for my college radio station. However, my first paid opportunity was working specifically with sustainability. (I picked up trash for the most part.) This is the area of large-scale event productions I am most passionate about.
Can you walk me through some of your experiences at these events?
What have I not experienced? It's an incredibly unique space to work in, to say the least. I think the average person would be surprised, and horrified, to know how many people leave their entire campsites when leaving. I will also say that festivals do lull you into a false sense of security… you should still be vigilant, things can still injure you- or worse.
What advice do you have for young women, especially, who are going to be at a festival this summer?
Sexual assault at music festivals is unfortunately not talked about as much as it should be, but it still happens. Practicing bystander intervention could help save someone from a very traumatic experience.
*Editor's note: Use the buddy system!! Even if it's just heading to the bathroom, getting lost with no cell service is a nightmare to go through alone.
(Desert Hearts)
Any tips for those festival-goers who are trying drugs, many for the first time?
Don't take drugs from strangers- or even people you know well. Always, always, always test your drugs. Use good judgement and do your research. Experimenting with psychedelics is likely safer than powders. You know yourself and your body better than anyone else.
A great resource for harm reduction is Bunk Bot– they will meet up with you at the festival location to make sure you get a test kit.
How can one leave a smaller eco-footprint when they travel and go to these concerts?
Carpooling is the number one cause of environmental destruction caused by camping festivals. Try carpooling or ridesharing- check if your festival is partnered with one. ALWAYS pick up your trash and sort your recycling. I don't care if it's someone else's job to pick it up, it was your job first.
Also- GLITTER IS TINY PLASTIC EARTH POISON- but it's also fucking awesome. I'd recommend investing in biodegradable glitter if you must have some.
Finally, what are three of your must-haves when you're packing?
I think it varies widely from event to event and what you're planning on doing. I usually bring sunscreen, a container for water, and comfortable shoes!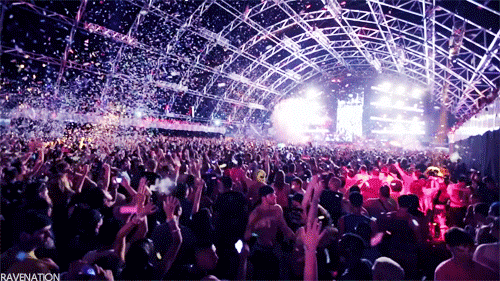 Have fun and be safe, friends!
Follow Anna on Instagram (@festivalinsider) and check out her website