Canals, tulips, windmills, Van Gogh- all what you think of when you imagine Amsterdam. Those are all swell, but if you want a more alternative path to discover the city, read ahead!
---
Gay Nightlife:
Reguliersdwarsstraat 42, 1017 BM Amsterdam
"A home for everyone", Club NYX is full of surprises on all four floors. Think dive bar vibes + vogueing battles. Let the drinks & dance flow!
Quick, cheap eats:
Multiple locations
Noodle bowls with vegetables and meat choices, great for vegans and vegetarians
too. One portion will go a long way!
FEBO
Multiple Locations
Bring your coins for this vending machine-like fast food. You can walk up to the see-through drawers that you open when you deposit coins in and get beaf or veal croquettes, hamburgers, or fries.
Like modern art? Check out:
Honthorststraat 20, 1071 DE Amsterdam
In the heart of the Museum District (Museumkwartier), this museum holds an awesome permanent Banksy exhibit and had past Warhol and Dalí exhibits. If you're a student, bring your ID & ask for a discount! (You should always bring your student ID when you travel abroad, you never know who accepts it!)
Cultural events:
Lijnbaansgracht 234A, 1017 PH Amsterdam
(image courtesy of City Scouter)
Melkweg (Milky Way) is a cultural venue for concerts, movies, events, and parties. Check out their diverse events calendar- most of these events require you to buy tickets online! They have bike parking outside as well, this is Amsterdam after all.
Coffeeshop:
Popeye Coffeeshop
Haarlemmerstraat 63, 1013 EK Amsterdam
FYI: Coffee shops & cafés are two different things. A coffee shop sells snacks, drinks, "space cakes" (aka edibles), and weed to either roll into joints yourself or pre-rolled joints. Cafés are more like the coffee shops you'd find in the US. Popeye is really laid back and perfect for your first Amsterdam coffee shop experience, others are usually too touristy.
---
Know Before You Go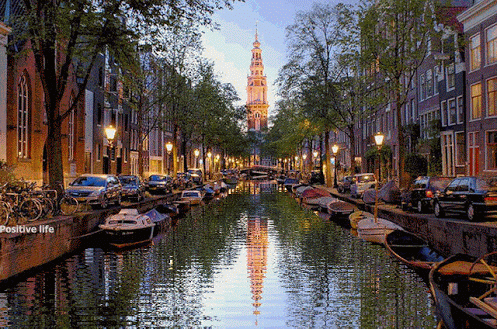 You can definitely get around with just speaking English- but you might run into some people that will laugh at your mispronunciations in Dutch. Politely ask someone if they speak English when you approach them (this goes for all global cities, my friend).
Even if the weather says 20 degrees Celsius and sunny, always bring a layer because the wind usually makes it real chilly at a moment's notice.
People will give you the wrong directions more often than not, it's extremely frustrating. I would ask a train station employee, who would lead me to another, who would lead me to another and I'd end up talking to about six different employees in total (and leave with the completely wrong route). Citymapperis the best app I've found so far!! It'll show you Metro, trams, biking and walking distances, and even Uber options.
Bring a water bottle and drink the tap water, it's one of the safest.
Bring as much physical cash as you can. Most museums & bigger retail stores will accept your Visa or Mastercard, but rarely everyone will accept it, especially the train ticket kiosks in the Amsterdam Centraal station and Schipol stations. To purchase train tickets with your credit card, go to a service desk with an actual person, or a blue kiosk in the Amsterdam Centraal station. Also, most Albert Heijn supermarkets do NOT take cards outside of the main downtown/touristy areas.
P.S. an extra tip for you: unless you're a very seasoned cyclist, (and biking on your college campus barely cuts it), do not try to navigate the bike lanes of Amsterdam as a first-timer. I would not recommend this because most locals use this as their main mode of transport & get impatient; the red bike lanes get very hectic and figuring out how traffic works is too much of an effort!